In this post I'd like to review another product from a company that's been making tons of products for makers, engineers, students and tinkerers like me. Elegoo, a company from Shenzehen(China), is known for its commitment to open source, a variety of products for STEM students, detailed guides in multiple languages and very low prices.
They are now selling some of their products on Amazon in multiple countries, including the US, making their products extremely fast to ship. In this post I'm going to review an item from Elegoo that I think would be a great tech gift for anybody interested in Arduino and Robotics: "Elegoo Robot Mini Car".
Disclaimer: Elegoo has provided me with a sample of the item I'll be reviewing.
Product description:
Elegoo Robot Mini Car is a STEM toy for kids age 6 or above. It is a full robot kit that comes disassembled and requires minor knowledge of STEM terminology. Arduino / Robotics novices would find this kit useful in order to understand basic principles present in hobby-level robotics. Using Arduino Nano as its brain, the Elegoo Robot Mini Car is packed with the following educational features:
Line Tracking
Obstacle Avoidance
Graphical Programming via mobile app
Remote Control via bluetooth + mobile app
Here's what the product looks like when assembled: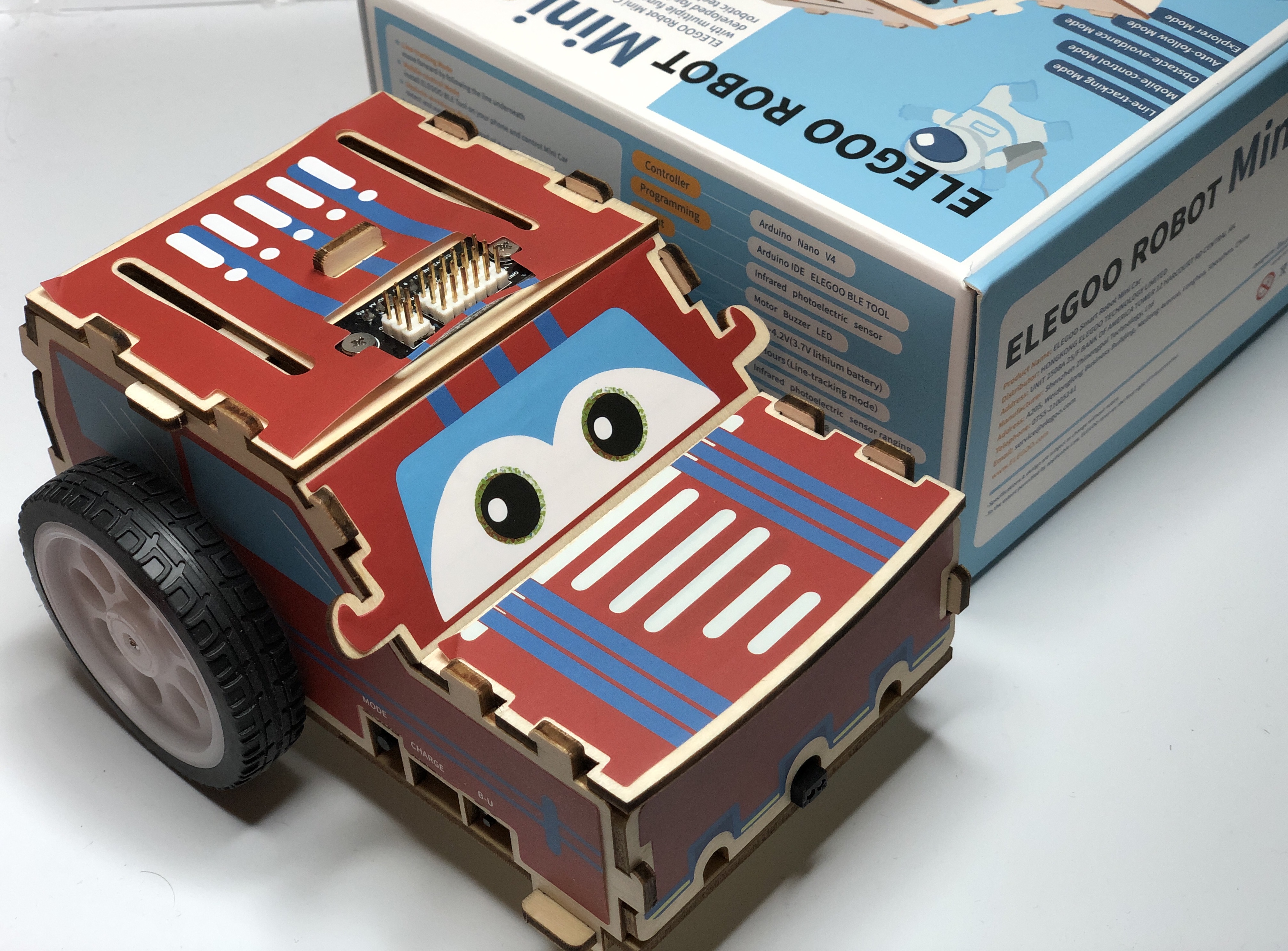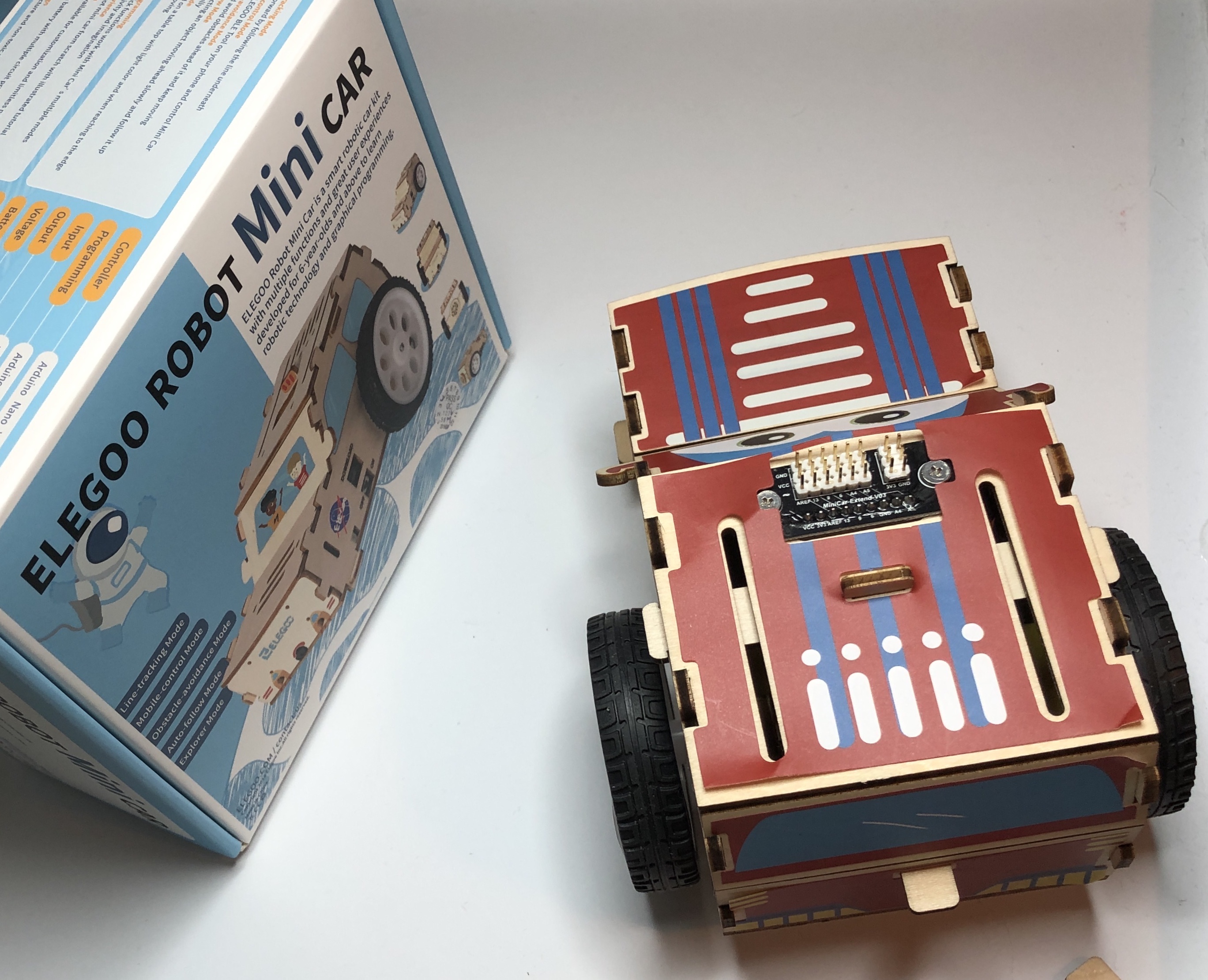 And here's a video of the assembled and functioning robot, operated with the iOS mobile app:
What's inside the box:
Elegoo Robot Mini Car comes with the following parts necessary for assembly:
2 High-torque geared Motors with wheels
Laser Cut wood for the car body
Rechargeable Li-Po battery
Arduino Nano
Main Circuit Board with bluetooth module, sensors, battery charging circuit and more
Expansion board
Stickers for the car body
Detailed instructions
Sample track for line following
Phillips (+) screw driver
All necessary nuts, bolts, standoffs and wires
I took some pictures of the components included in the kit:
Assembly Process:
The assembly process took me about 30 minutes from start to finish and was very well explained in the instructions that came with the kit. I didn't have any problems following the instructions and was surprised how well the kit was fitting together.
Everything snapped into places perfectly and there was minimal frustration during the whole process. There could be more labeling necessary on the laser engraved parts, but thankfully the 3D pictures in the instruction manual do a good job showing you exactly how to match up the pieces.
There are 8 major steps of the assembly:
Securing the control board to the car body
Placing the motors
Putting the tires onto the motors
Affixing the battery
Affixing the expansion board
Assembling the body of the car
Attaching the stickers
Programming the Arduino
After those steps are complete, I was able to turn on the car, connect it to my iPhone via the Elegoo app and control it from the app. Here are some pictures I took of the assembly:
Elegoo provides really good instructions about programming the robot, you can download them here: http://www.elegoo.com/download/
Product Usage:
The app for this robot is available for both Android and iOS . The app offers many features to work with this smart car kit:
Remote Control via Bluetooth Low Energy
Block Editor for simple graphical programming
DIY control board for invoking common functions
Here are the screenshots I took of the iOS app:
Verdict:
The Elegoo Robot Mini Car is a well made product that consists of Assemble-it-yourself robot platform based on Arduino, Arduino software and iOS / Android app for easy operation of the robot. The assembly process was easy and quick, thanks to easy-to-follow printed instructions. Because the robot has a rechargeable LiPo battery, no additional batteries are required.
This kit would make a great father / child project, father's day gift, birthday gift for a child or educational tool for schools.
You can purchase this kit by going to this Amazon URL: