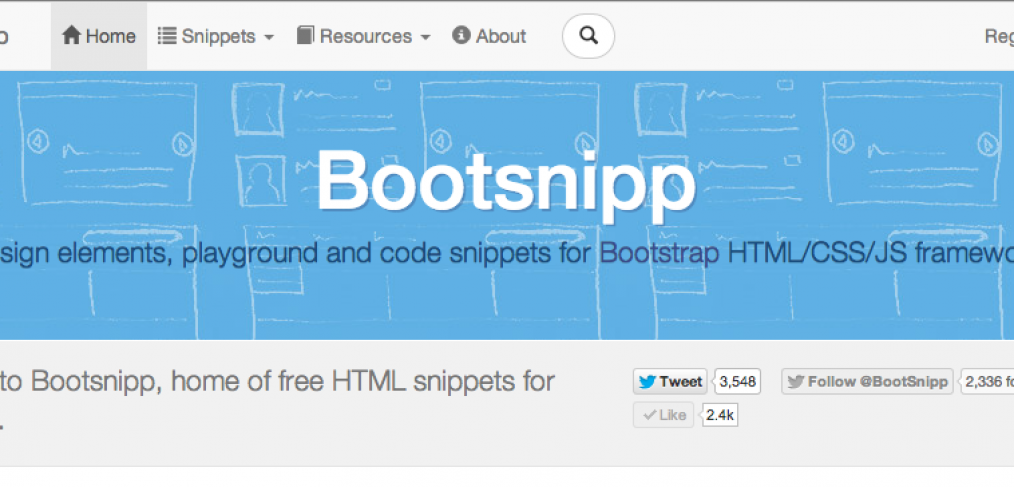 Releasing new Bootsnipp for Bootstrap lovers!
A word on Bootsnipp's history
Today marks one year and one month since Bootsnipp has been online.
Over this time millions of people have visited it to get free Bootstrap snippets and resources. According to Alexa ratings, Bootsnipp is in top 20,000 websites around the world by popularity. Visitors come from all over the world. People from 215 countries including United States, India, Brazil, Russia, United Kingdom, Ukraine and down to such exotic names as Sierra Leone and Gambia have visited Bootsnipp. It blows my mind how big of a need there is for free Bootstrap-related resources.
Since its very first day, Bootsnipp was trying to be your favorite place for all things Bootstrap. It had snippets that you could just copy and paste into your projects. It had a big list of hand-picked resources that are helpful for anyone using Bootstrap. Last but not least, it had a playground  that allowed users to preview small changes in the snippets and have feedback right away before they leave the site implementing the free snippets.
Even though Bootsnipp was good and useful, I felt that it was not future proof. With each new iteration of Bootstrap coming out there was quite a bit of work involved in maintaining the site and when a major change occurred – such as Bootstrap 3, the site did not have the right architecture to handle the new framework. I have been hard at work trying to overcome those problems.
Announcement of the new Bootsnipp:
Today I am pleased to announce the all new Bootsnipp that was completely re-built from the ground up. Everything was re-thought and reimplemented with focus on the future and usability for the users. The new features range from improved resources page and better button builders to completely new way of exploring Bootstrap. What was left  from the old site – is the joy of using Bootsnipp.
Improved Resources page
The resources page has been rebuilt with focus on easier search by keywords – just type in the word you are looking for and see the page filter itself to find your keyword immediately:
New amazing playground
New Bootsnipp's playground capabilities allow anyone to create Bootstrap snippets using the most popular versions of Bootstrap. The results could be seen immediately, improving the way you work with Bootstrap:
Forking of existing snippets
New Bootsnipp's playground capabilities allow anyone to fork existing snippets and experiment with them in their on playground. Feel free to play with HTML, CSS and Javascript of the snippet to see how it changes. Try out new Bootstrap features right away without opening your code editor:
The future of Bootsnipp
Soon, more amazing features will be integrated into Bootsnipp to make it the best possible resource for any version of Bootstrap. The exporting and embedding of snippets (to show on your blog or site), private profiles, even a marketplace offering themes and premium layouts is coming. No matter the changes, the core of Bootsnipp – free snippets and resources – will always stay the same.
When is the launch?
The new Bootsnipp will be launching a week from now. You will be able to see the all new Bootsnipp On Monday, October 21! The old snippets will remain for access the same way, no changes will occur there.
Thanks to:
Beta testers (Michael, Matthias, Hardik, Abhi, and more), Bootstrap CDN  for their great CDN specific to Bootstrap, and everybody who has helped me test and improved the new Bootsnipp. And also big thanks to my beautiful wife for feeding me while I code intensely and for helping me choose colors for the banner on homepage.
Spread the word!
Please help me spread the word about new Bootsnipp, use the sharing links below!