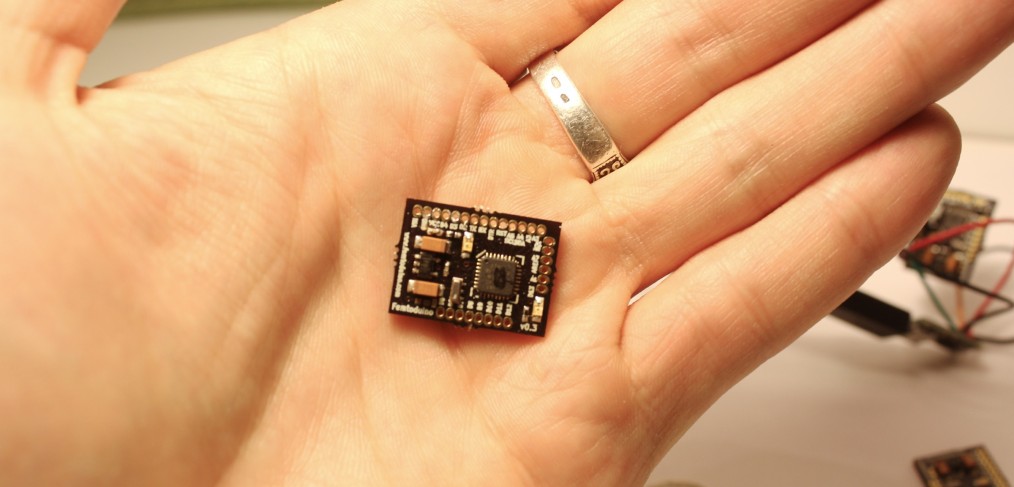 Getting started with Femtoduino – smallest Arduino
A couple months ago I was playing with my Arduino Uno and I was wondering, what is the smallest Arduino that I could find these days? So fast forward, I am holding Femtoduino, smallest Arduino that I was able to find without braking my budget.
What is Femtoduino?
It is VERY small Arduino compatible board that has same processing capability and pin count as an Arduino Uno.
Here are the specs from Femtoduino's website :
Femtoduino is an ultrasmall libre Arduino compatible board.
ATMEGA 328p (QFN32 version) Processor
exact same computing power of the Arduino Duemilanove or UNO.
ultra light (2g)
ultrasmall (20.7×15.2 mm) (.81″  x .6″)
0.05″ connectors
0402 components
removing everything not strictly necessary
Wondering what the PIN layout is ?
Check out the picture below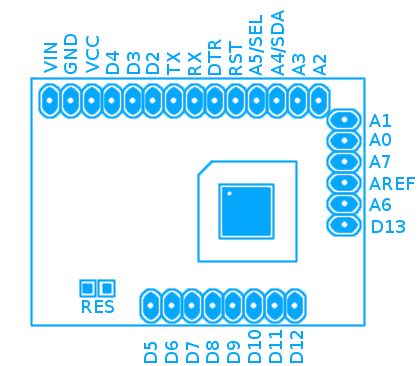 Femtoduino is easy to program, you can use your existing Arduino to act as the programmer or you can use FTDI board to program it directly from Arduino software. I use the micro FTDI board from Tindie : https://tindie.com/shops/jimparis/microftx-usb-serial-breakout/
Download the drivers for the FTDI board here:
http://www.ftdichip.com/Drivers/VCP.htm
And here is the instructions that I followed to connect it to my computer :
http://www.femtoduino.com/femtoduino-and-ftdi-ft232rl-usb-to-serial-breakout-board/
To connect the Femtoduino to the FTDI board I used a basic jumper wire  that was cleverly inserted into the Femtoduino from both sides to be held securely. This way I can even prototype on the Femtoduino and breadboard without using a shield!
What's the price of a Femtoduino?
Femtoduino costs 25$ plus shipping.
You can purchase it from the manufacturer :
Or from Tindie.com :
https://tindie.com/shops/femtoduino/
Feel free to ask me questions about this, I have 3 of these little boards that I will be using in my projects!
Have fun making micro electronics projects!